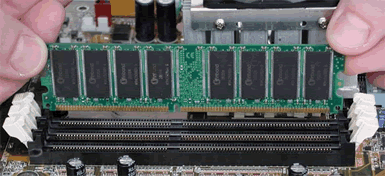 RAM - Random Access Memory, or volatile memory, is used by the system to store data for processing by a computer's central processing unit (CPU), also known as the processor. The processors used in most PCs are made by Intel, AMD, IBM/Cyrix, and VIA/Cyrix.
VIA has purchased Cyrix, and has issued small, cheap, integrated PC-in-a box units that can access the Internet.

45ns PC800 RAMBUS Memory
RAM stores the data in memory cells that are arranged in grids much like the cells are arranged in a spreadsheet, from which data, in the binary form of 1's and 0's, can be accessed and transferred at random to the processor for processing by the system's software.
The data stored in a hard disk drive (HDD) cannot be accessed at random. Whole sectors, containing blocks of data, are transferred from a hard disk drive, placed in a large swap file on the same drive, and only then are selected files transferred to RAM for random access by the processor, which is itself only performing the instructions of the system's operating system (usually Windows), and its application software.
When the computer is turned off, all of the data in the RAM memory is lost, hence its alternative name of volatile memory, whereas all of the data on a hard disk drive is retained permanently until it is intentionally erased.
The motherboard (or mainboard) manual (that should be provided with a new or a second-hand PC) will provide all of the details about the different types of supported RAM, and the various combinations of modules per bank for each type that can be successfully installed.
There are many flavours of RAM - with or without error checking (ECC), buffered or unbuffered, etc., but at the moment, two main types of RAM in DIMM modules are available - standard and double density modules. The module can be single-sided (with memory chips on one side of the module only) or double-sided (with memory chips on both sides of the module)..
Not all motherboards can use the double density type, and so will only be able to read the chips on one side if you install double-sided modules (a 256MB module will typically only register as 128MB with Windows), so always make sure that the RAM you are buying as an upgrade is compatible with the motherboard. It is always a sure sign that the motherboard does not support the type of RAM installed if it is not all recognised by the system.
Note that the amount of RAM is actively counted when the system boots (visit the BIOS page on this site to see images of start-up screens showing the memory count), and is reported in the Windows Device Manager, or by entering msinfo32 in the Start => Run box.
---
ECC Memory. ECC stands for Error-Correcting Code. It is error correction hard-coded into the RAM chips themselves. This type of RAM is more expensive than other types, and is mainly used in mission-critical systems.You can install it in a system if it is supported by the motherboard.

Registered or buffered RAM has a built-in buffer that stores the data before it is transferred to the hardware memory controller. It increases the reliability of the RAM enormously. Even so, most of the RAM used in personal computers is unbuffered, and works reliably enough in that role.
---
Too much RAM can cause problems with some versions of Windows
Note that if you are upgrading your RAM memory, a computer using Windows 95 or Windows 98 (first edition) will not recognise more than 256MB. Moreover RAM that Windows cannot cache (recognise) will be accessed as slowly as the virtual memory swap file (win386.swp) that Windows creates on the boot hard disk drive to use when the amount of RAM runs out. Therefore, adding too much RAM can slow down a system considerably. Unless you are using a non_Windows operating system such as Linux, and unless you employ the fix a link to which is provided below, your must have Windows 98SE or run a later version to use more than 256MB of RAM.
This limitation does not apply to Windows 2000 and Windows XP.
Moreover, it has now become known the Windows 98 SE (second edition) has trouble with 512MB of RAM and more. Windows 9.x systems were not designed to use large amounts or RAM. Most home users of Windows 9.x are unlikely to require this much RAM in any case, so, if possible, it is advisable to install less than 512MB. If you need to use more, use Windows 2000, or Windows XP, both of which are based on the Windows NT architecture. Windows 95, 98, and Me are based on Windows 95 architecture.
If you have more than 512MB of RAM installed and this causes any problems, you can restrict the amount of RAM used to 512MB (or any other amount) by entering msconfig in the Start => Run box, clicking the Advanced button, and enter the appropriate restriction in the Limit memory to... box - and enable it with a check mark.
There is a configuration file fix that can be applied to make Windows 98 function with as much RAM as you are likely to throw at it. See this excellent article - Windows 98 & WinME Memory Management -
http://aumha.org/a/memmgmt.htm
You can also read more about this in a Knowledge Base (KB) article Q253912 at Microsoft's site -
http://support.microsoft.com/support/kb/articles/Q253/9/12.asp
Microsoft has a tendency to change the links to KB articles, so if a link fails to work enter the article's Q number in the search box on the following page. As you can determine from the information in the link itself, the Microsoft link above leads to the article with the Q number of Q253912.
http://support.microsoft.com/default.aspx?pr=kbinfo&
---
Memory-card readers
If you use several different kinds of devices that use their own kinds of memory cards, you can purchase memory-card readers that can read the different cards.
For instance, an MP3 player uses MMC cards, a Personal Digital Assistant (PDA) uses Compact Flash cards, and a Sony Vaio notebook computer uses it own Memory Stick cards.
You could spend a long time transferring files from the devices to a desktop computer by using, say, USB cables. But if you buy an inexpensive memory-card reader, you can eliminate the need to plug and unplug lots of different USB cables.
The 6-in-1 Media Reader requires a 3.5" drive bay of the kind that houses a floppy disk drive. It reads Multimedia Cards (MMC), Secure Digital (SD), Memory Stick, PC Card (PCMCIA), Compact Flash, and SmartMedia card formats. You can copy the contents of one type of card to the desktop computer's hard drive, insert a different card, and copy the contents to it, or you can just copy the contents to the hard drive.
You can buy the 6-in-1 Media Reader from http://www.simply.co.uk/.
The USB 2.0 6-in-1 Flash Reader, is an external USB device that can be connected to either a notebook or desktop computer. It also has a USB 1.1 port that enables you to connect a printer or scanner to it.
You can buy a 6-in-1 Flash Reader from http://www.watford.co.uk/.
---
Motherboard and BIOS settings
The motherboard's manual will also provide you with any jumper settings that might be used to set the RAM's speed - for 66MHz EDO RAM, PC 100 SDRAM at 100MHz, PC 133 SDRAM at 133MHz, etc. - and the BIOS settings that might set the speed instead of motherboard jumpers, as well as set other optional settings such as the bank interleave and timing settings.
For images of and information on the jumpers and DIP switches used on motherboards to enable various functions, visit the Motherboard page of this site.
You can also visit this page of the PC Guide - http://www.pcguide.com/ref/mbsys/cache/char_Cacheability.htm to read an article on RAM cacheability. There are also several other pages devoted to RAM on this site.
Visit this site for a guide called How to Install Memory in Your PC.
And visit http://www.geocities.com/budallen98_98/dennis.html and search for the article called How Much RAM Will Windows 98 "USE".
Unfortunately, the ability of Windows to use RAM does not always coincide with ability of a motherboard's chipset to cache RAM, so be sure to check your motherboard's manual before you upgrade. The motherboard's chipset determines how much RAM can be cached. If the motherboard has an elderly chipset, the amount of RAM it can cache might be limited to as little as 64MB.
If a motherboard can only cache 64MB of RAM, such as one with the elderly Intel TX chipset, and you install 128MB, even if it works, it will slow the system down significantly, because the excess RAM cannot be cached, and so will be accessed in the same relatively slow manner as the virtual memory swap file that Windows sets up on the hard disk drive is accessed.
The moral of the story - if you have an ageing PC, always find out how much RAM your motherboard can cache before upgrading.
Only purchase a new computer that has at the very least PC 133 SDRAM. This kind of RAM is certified to run at 133MHz.
If you are looking for a system with the fastest available RAM consider one with DDR RAM, or the more expensive, but not necessarily superior Rambus RAM, which is supplied in modules called RIMMs.
If you are buying RAM as an upgrade, purchase it from a supplier of quality RAM such as Crucial.
RAM of poor quality will isn't worth any savings you can make, because it can be the source of all kinds of system failures.
Motherboards that use EDO RAM supplied as SIMM modules are no longer being made, but you can still purchase EDO RAM from suppliers such as Crucial, or second-hand from computer auction sites.
Make sure that the RAM installed or installable on your motherboard is supplied as one or more DIMM (or, if your motherboard supports it - RIMM) modules.
Unless your motherboard can run the RAM speed and the bus speeds independently of one another (as is the case with the FIC VA-503+ AT form-factor motherboard), remember not to use ordinary 66MHz RAM when the motherboard bus (FSB) is set to run at 100MHz - the newer PC100 (100MHz) SDRAM is required.
Likewise do not use PC 100 SDRAM, which runs at 100MHz, on a 133MHz system bus. Use PC 133 SDRAM.
---